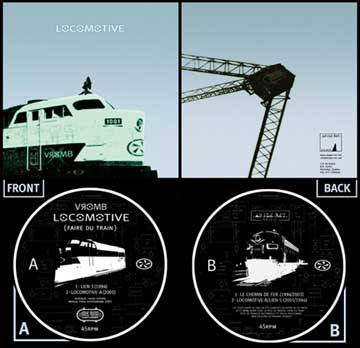 Tracklisting:
A:

Lien - 3 (1994)
Locomotive - A (2001)

B:

Le chemin de fer (1994/2003)
Locomotive - B / Lien 5 (2001/1994)
Total playing time:

16:00

Graphics and Layout:
Bio-Z

Info-text (Angle Rec):

Hot on the heels of his latest 10inch, Le Tourne-Disque, which gained a very strong response from both fans and critics, Vromb strikes again with another 10inch release, this time focussing on the concept of locomotives and railways. Originally commissionned in 1994 for a theater play, called Faire du Train, the sound material on this release was recently re-worked and enhanced by the artist and it definitely pursues on the minimal technoid approach found on many Vromb past and recent releases, with atmospheric-oriented openings, intermezzos and closings, in purest Vromb tradition. Upon hearing the first seconds of the opening track, with the train passing in a desert plain, by night, at an unstoppable pace, the listener will undoubtedly recall some childhood memories, those moments when he heard the locomotive roar from the neighboring railway, seconds before falling asleep…and was then dragged into organico-mechanical dreams… And then comes the sloppy, fat, blueprint Vromb rhythmic section… Montreal's new label .ANGLE.REC. is proud to present this new chapter in Vromb's musical lifebook. So is Vromb himself!